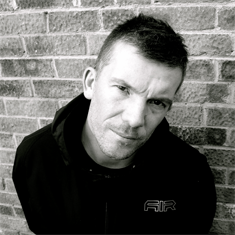 Henry Cullen aka D.A.V.E. The Drummer
Anyone who's been into Techno Music for the last 10 years or so will probably have stumbled across one of Dave The Drummer's records. He's the one of the key producers behind the Acid Techno Sound of London in the 1990's and owner of one of the best known techno labels in the world 'Hydraulix'.
For the past 15 years D.A.V.E. has been DJ'ing from his vast catalogue of tracks all over the world. As a DJ He has a reputation for being innovative and sharp on the turntables, and now, playing with Traktor Scratch and Cross by MixVibes with an armload of fresh, new, unreleased material, his DJ sets have become explosive
Never one to be tied down, DAVE continues to choose his own direction, supporting the smaller intimate underground venues as well as running his own events in London, He is still a regular visitor to Brasil as well as Japan , Australia , Venezuela, Canada , Russia, and the rest of Europe and has played most of the world best clubs and festivals over his 15 year career as a traveling DJ.
In recent years Dave's sound has shifted away from the fast acidic sound of the London underground to a slower funkier techno groove. His recent work on sister label Mutate to Survive along with tracks on Reklusive, Naked Lunch, Hydraulix 909 and his Studio productions and collaborations with other techno producers are picking up attention from some of the worlds top techno DJ's. Including regular plays from:
A. Paul, Len Faki, Fergie, Adam Beyer, Ritchie Hawtin, Bryan Zentz, DJ Preach, DJ Murphy, Carl Cox, Wehbba, Joseph Capriati, Sasha Carassi and many more.