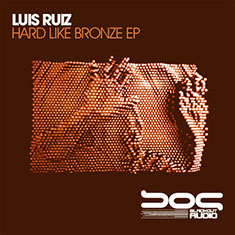 BOA020 | Luis Ruiz 'Hard Like Bronze EP'
Artist: Luis Ruiz
Title: Hard Like Bronze EP
Remixes: The Anxious
Cat No: BOA020
Release Date: 26th March 2012
Format: Digital
Buy Link: HERE


01 – Hard Like Bronze
02 – Engraving
03 – Engraving (The Anxious Remix)
Press Release
Following on from Blackout Audio's Remastered Series comes this brand new release from the flagship label itself, Blackout Audio. This time, Luis Ruiz is at the helm – the Argentinian electronics master who has recently been causing quite a stir within the techno community.
His unmistakable and arguably brilliant new direction for music has gained him plenty of important followers, recently catching the eye of Spanish superstar Oscar Mulero, which led to his 'Anunnaki Invasion EP' (featuring a brilliant remix by Oscar himself). He of course runs his own label Subsequent but there have been a plethora of releases on labels such as M_Rec, Armatura, Woody McBride's Communique and Planet Rhythm.
Stepping up for remix duties here are The Anxious – the dark and mysterious duo (aka Mark Anxious and Chrissi) who lie directly at the head of the Blackout Audio label and have had countless releases on some of the worlds best techno labels – including Planet Rhythm, Fine Audio, Arms, Audio Assault and many more. This is one remix you really must have in your arsenal.
Of course all three tracks here speak for themselves, so without further ado we give you Blackout Audio 020. Enjoy.
www.blackoutaudio.co.uk
www.theanxious.net
www.luisruiz.com.ar
Distribution via Triple Vision (www.triplevision.nl): Beatport, Juno, ITunes and more.

Hard Like Bronze

Engraving
Engraving (The Anxious Remix)