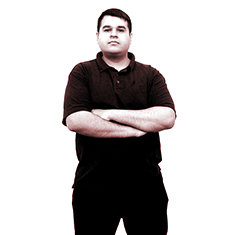 From Argentina, living in Buenos Aires, Luis was born on 1982. As a child he was influenced by the acid house sound of the 80's. He began his career of musical production in 1996 - when he was just 14 years old - influenced by the DJ's and producers of the 80's.

When he was a teen, Luis went to the first rave parties organised in his country during 1997, specifically watching performances of live music made with synthesizers and drum machines.

After a year of rave parties he began to go to underground techno clubs, where he learnt about the sound that would mark him for the rest of his life.

In 1998, he started making acid house and techno acid, influenced by the dictatorship of the synthesizer Roland TB-303, and the classic drum machines TR-707/808/909. They also appeared in his first hard techno projects - strongly influenced by the rave movement of the moment.

In that time he began to send demos to several local radios at only 16 years old. This period was essential to learn the technical knowledge of production and mastering, with a rich source of wisdom at his mercy, using hardware equipment and dedicated software.

In 2008, he created his own label Analogate Recordings, totally focused on the sounds acid techno and hard techno classic old school. When Analogate Recordings began, Luis Ruiz searched to resurge the roots of the old school techno sound.

In 2010, he founded his second label: Subsequent Records - classic techno style.