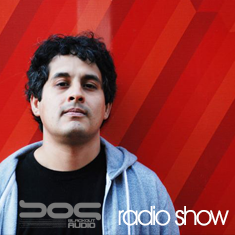 BOA Radio Show 028 | Angel Alanis
Angel Alanis has become a predominant figure in the E.D.M. industry. Hailing from Chicago, Angel began his career with the 1997 debut EP "Advanced Therapy."
Since then, he continues to produce a consistent and diverse stream of tracks, ranging from house and filtered disco workouts to tech-house and techno. His first album, "The Subconscious State of Techno," was released in 1999, the success of which lead to his 2001 imprint A-Squared Muzik, featuring the smash hit "Do You Like the Way You Feel When You Shake." In 2004, BPM Magazine awarded Angel a spot on its Top 100 DJ list after producing DJ Colette's Dancestar Award-winning song "Feelin' Hypnotized." His work continues to earn
international acclaim, landing him on labels such as Tresor, International House Records, Impact Mechanics, Tronic and Laidback Luke's Subspace imprint. On the dance floor, Angel's raw talent and innovative style has landed him gigs from Bogota to Berlin, and everywhere in between.
Recently, Angel joined the afro-acid team Home of DJ Pierre and is in the process of establishing two new labels,Home Audio and Slap Jaxx, which has already earned acclaim from such DJs as Dave Clarke, Ken Ishii & Dj Rush. His current work on the Freedom Series albums has proved Angel's passion and dedication for the music and not the hype, while earning him a devout fan base.
Radio Show Tracklist:
Perc 'My Head Is Slowly Exploding' (PERC TRAX) Released June 10 2011
Sleeparchive 'Ronan Point Two' (TRESOR) Released May 16 2011
Anti 'Eclipse' *
Micheal Schwarz 'Strange Energy'
The Aphex Twin 'Tha' (TAKEN FROM THE SELECTED AMBIENT WORKS ALBUM) 
Johan Afterglow 'Temporary Sanity' (SLAP JAXX)
Angel Alanis Mix:
ASIO (aka R-Play) 'Minimize Me (Damon Wild Remix)'
Virgil Enzinger 'Darkness (Mike Humphries Remake)'
Glenn Wilson 'Slate (DJ Shiva Remix)
Ken Ishii 'Pounding Out (Angel Alanis Remix)'
Space Djz '5thParallel'
T-1000 'The Revenge (Patrick DSP Remix)'
Spark Taberner & Oliver Kucera 'Turn The Screw'
Mark EG's Mix
Jesper Dahlback 'Diode Ladder' (H PRODUCTIONS) Released May 2011
Slam 'Crowded Room' (DRUMCODE) Released April 18th 2011
Johan Afterglow 'Rangefinder' (SLAP JAXX)
Lee J Malcolm 'One Star-Applicant (James Ruskin Remix)' (EPM)
Iori 'Lapis 1' (PROLOGUE)
Luis Ruiz 'Rocken' Released May 4th 2011
Recorded 29th April 2011