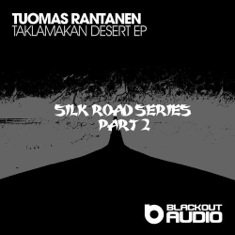 BOA024 | Tuomas Rantanen 'Taklamakan Desert EP'
Artist: Tuomas Rantanen
Title: Taklamakan Desert EP (Silk Road Series Part 2)
Release Date: 3rd February 2014
Format: Digital
Cat No: BOA024
Tracks

01 – Taklamakan Desert
02 – Khotan
03 – Turfan

Press Release

Part 2 of the 'Silk Road Series' entitled the 'Taklamakan Desert EP' continues where Finish based artist Tuomas Rantanen left off. Here we have three immense works of art, taking dark and atmospheric techno music to a completely different level. If you thought his debut 'Qilian Mountains EP' was good, this surpasses all expectations - and then some. Visit www.blackoutaudio.co.uk for more information.

Distribution via Triple Vision (www.triplevision.nl): Beatbucket, Beatport, Juno, ITunes and more.