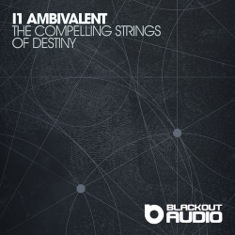 BOA025 | I1 Ambivalent 'The Compelling Strings Of Destiny'
Artist: I1 Ambivalent
Title: The Compelling Strings Of Destiny
Release Date: 17th February 2014
Format: Digital
Cat No: BOA025
Tracks

01 – The Compelling Strings Of Destiny
02 – No Guts No Glory
03 – Tailor Of Disaster
04 – Abomination Ready

Press Release

Croatia's I1 Ambivalent (Juraj Pustic) is presently at the top of his game. All four tracks demonstrate his ability to craft very different feelings but always with that unmistakable driving yet dark techno sound. Is there any wonder he's one of the most in-demand forward thinking producers in the world today? Visit www.blackoutaudio.co.uk for more information.

Distribution via Triple Vision (www.triplevision.nl): Beatbucket, Beatport, Juno, ITunes and more.