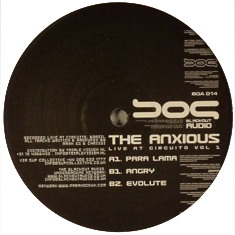 BOA014 | The Anxious 'Live At Circuito Vol 1'
Artist: The Anxious

Title: Live At Circuito Vol 1

Cat No: BOA014

Format: 12" Vinyl

Buy Link: HERE

A Para Lama
B1 Angry
B2 Evolute
'Live At Circuito Vol 1' is the next chapter in the critically acclaimed Blackout Audio catalogue, featuring three tracks from the much-publicised Live PA by The Anxious (Planet Rhythm, Compound, Submissions etc).
The story began last year, when The Anxious were asked to create their first ever Live performance for Brazil's biggest techno promoters Circuito. Six months in the making, the set spanned the whole spectrum of hard techno, ranging from old party favorites to a whole range of brand new music. This EP features three of the best tracks from this breath-taking 60-minute extravaganza.
'Para-Lama' was one of the most popular tracks from the night and the demand for this to be released has been overwhelming. Taking influences from the early style of the Aphex Twin but bringing things bang up to date with a fury of techno percussion, this is peak-time dancefloor stuff but with a longevity that will outstrip most other tracks in the genre.
Flip to the B side and here lies an absolute gem of a track in the form of 'Evolute'. Deep, dark and rolling, the hypnotic groove gradually evolves into something that will leave any crowd on a knife's edge, especially when the subtle breakdown erupts into an almost plane-like take off. 'Angry' ends the session, giving DJ's the final bullet in this three-track armory of futuristic sound.