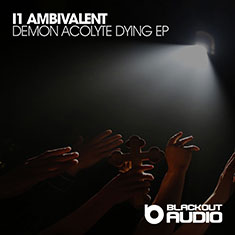 BOA027 | I1 Ambivalent 'Demon Acolyte Dying EP'
Label: Blackout Audio
Artist: I1 Ambivalent
Title: Demon Acolyte Dying EP
Release Date: 8th October 2014
Format: Digital
Cat No: BOA027

Tracks

01 – Service Rememberance (Video also on Youtube)
02 – Last Moments
03 – Under The Candlelight

Press Release

As the winter draws near, Croatia's I1 Ambivalent (Juraj Pustic) releases the 'Demon Acolyte Dying EP'. All three tracks that tell a horrific story that shock and scare. See the accompanying video to the title track 'Service Rememberance' on the Blackout Audio Youtube Channel. Visit www.blackoutaudio.co.uk for more information.

Distribution via Triple Vision (www.triplevision.nl): Beatbucket, Beatport, Juno, ITunes and more.