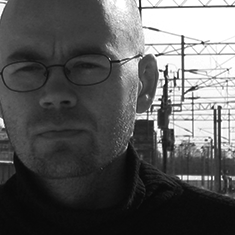 Tuomas Rantanen comes from Finland and his musical style is dark industrial techno. He has created his own unique form of musical expression, where strong driving percussions and rhythms combine with cold, dark atmospheres and ambient textures.
He strives to depict the soundscape of the modern technological society and its change through the medium of electronic music. His aim has been to describe how nature has changed to an industrial nature and to show how radically the soundscapes surrounding us have also changed in a short period of time.
Rantanen has dealt with the theme of change in nature and society in his works such as 'Rocket Bay EP' (2003), 'Dark Water EP' (2008), 'Gasoline Rainbow EP' (2010) and in his 2011 'Grinding Ground' suite that was released on City Wall Records.
Tuomas Rantanen has also dealt with societal change from the perspective of cyberpunk. Rantanen wanted to show how boundaries between man and machine, the nature and the artificial have become blurred. He also wanted to reveal how a change in our audible environment might soon be a reality. These cyberpunk themes of societal and audible change are explored in his more chaotic and hectic works such as 'Access Denied EP' (1999), 'Kaotic EP' (2002), 'Memorising Every Phrase EP' (2006), 'Robotan Elbows EP' (2009) and 'Anarchy EP' (2011).
The goal of his Organisms, Mutations and Corporations album trilogy (2012) is to merge these two leading themes, the change in our audible environment and the blurring of the boundary between the natural and the artificial.
Tuomas Rantanen has many, many releases on huge variety of labels including Fresh Grind (England), City Wall Records (England), Elektrax Recordings (Australia), We Call It Hard Records (Germany), Foot Fetish Records (Germany), Audio Assault Records (The Netherlands), Submissions (The Netherlands), Unknown Forces (England), Electracom (England), Planet Rhythm/Template Records (England), Armatura Clandestine (USA), Guilhotina Records (Brasil), Utch Records (Chile), Naked Lunch (Portugal), KK Traxx (Belgium), Extortion Group Recordings (The Netherlands), Definition Records (Germany), Brother Convention (Germany), Fak Records (Germany), Zimmer Records (Germany), Ground Effect Records (Bosnia and Herzegovina), Maracas Records (Sweden), Emergence Records (Sweden) and Contone Audio (Sweden).
Tuomas Rantanen also studied Philosophy at Tampere University and wrote his Master's Thesis about the philosophy of Martin Heidegger; especially Heidegger's concept of understanding, language and art.