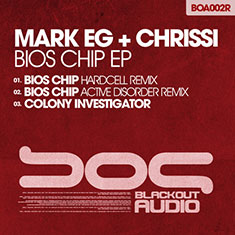 BOA002R | Mark EG and Chrissi Vs Hardcell 'Bios Chip'
Label: Blackout Audio Remastered
Artist: Mark EG and Chrissi
Title: Bios Chip EP
Remixes: Hardcell (Sweden) / Active Disorder
Release Date: 21st Nov 2011
Format: Digital
Cat No: BOA002R
Tracks
01 - Bios Chip (Hardcell Remix)
02 - Bios Chip (Active Disorder Remix)
03 - Deranged
Press Release
Blackout Audio's new sub-division 'Blackout Audio Remastered' continues with this, the second release from its awe-inspiring and highly acclaimed twelve-year back catalog. This time Sweden's Hardcell steps up to the stage, who is no stranger to producing quality electronic music, having had releases on labels such as Adam Beyer's Drumcode, Marco Corola's Zenit and Chris Liebing's CLR imprint to name but a few.

Originally released in 2000, Hardcell's mix is dark and heavy; with a pace and drive that fitted perfectly on the main European floors of the time. This was played from DJ's across the techno community with the key here being the subtle changes in locked groove, that magnified ten-fold through a pounding club system. This was nothing short of relentless back then and is still so today.
Active Disorder delivers the second mix – again locked in a groove but with even more percussion changes firing from several different angles. Finally, Mark EG and Chrissi give us 'Colony Investigator' – a track that found favour with artists such as UMEK and Valentino Kanzyani due to it's unmistakable tribal influence.
Unmissable.
Bios Chip (Hardcell Remix)
{http://soundcloud.com/blackoutaudio/boa002r-01-bios-chip-hardcell?in=blackoutaudio/sets/mark-eg-and-chrissi-bios-chip}
Bios Chip (Active Disorder Remix)
{http://soundcloud.com/blackoutaudio/boa002r-02-bios-chip-active?in=blackoutaudio/sets/mark-eg-and-chrissi-bios-chip}
Deranged{http://soundcloud.com/blackoutaudio/boa002r-03-colony-investigator?in=blackoutaudio/sets/mark-eg-and-chrissi-bios-chip}