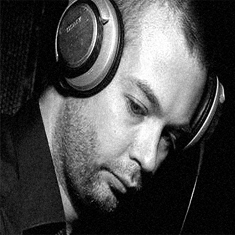 Inigo Kennedy is a pioneering and respected techno and electronic music producer and DJ. He is well known for bringing technical and creative originality and skill to his work. He is the owner of the innovative and genre defying label Asymmetric. His discography stretches to almost 100 releases on vinyl, CD and as MP3. His DJ schedule has taken him to all corners of the World.
In his own words:

Born in North London 1972, I was playing with a Fisher Price turntable by the age of two and spent the majority of my early years taking anything electronic, computerised or robotic apart - progressively things around me turned into a laboratory.
In my early teens I developed a passion for electronic music - listening to anything from Jean Michel Jarre and Depeche Mode to Howard Jones and The Human League, I was always less interested in the songs but more interested in the vast arrays of equipment being used to create the music. I had aspirations of one day owning a Yamaha DX7.
During the late 80s I took more than a passing interest in the first wave of hip hop as it developed into a more experimental and electronic format. Mantronix 'Bassline' remains an all time favourite. Inspired by the sound Paul Hardcastle's '19', first heard on the Radio One hip hop show and seeming to defy categorisation, there unfolded an extended period of experimenting with tape dubbing, manual and labour-intensive editing and the misuse of cheap guitar effects pedals.
Next came the energy of acid house and break-beat hardcore which was for me a natural progression and firmly planted the seeds of what was to later become a great passion for techno.
Throughout this time I was equally fanatical for all kinds of obscure alternative, industrial and electronic music and spent much of my time trawling through record fairs for unusual material. Listening to John Peel's shows on Radio One became a regular source of inspiration and this has come full circle more recently with John Peel regularly playing my material on his shows.
Manchester came next with a period of four years, between 1992 and 1996, spent at UMIST studying for a degree in Electronic Engineering - specialising in Digital Signal Processing and developing more than a casual interest in number theory. Digital equipment has since become a major focus in my studio set up - some might say this is at odds to the traditionally analogue sound sources that techno often relies on although I believe it has helped me to develop my characteristic sound and production methods.
Techno Beginnings
The beginnings of my studio, the acquisition of a Roland D-50 and Casio FZ-1 in 1994 and the assembly of a rudimentary home made mixer and filter unit lead to the start of techno production in earnest - and a seriously deep knowledge of how these machines could be used and misused. This period of production culminated in winning of the 1996 Fosters Ice Breaker for Techno on John Berry's Techno Show on Kiss 102 in Manchester, UK. Winning the Fosters Ice Breaker lead to my first release 'The Bond EP' in June 1996. A bright orange record that some people in Manchester at the time may have remembered appearing in their hands outside a few club nights.
With this confidence boost and foot-in-the-door behind me I began firing off material to Karl O'Connor (Regis) at Downwards and eventually this evolved into my first real opening when ZET, a now defunct sister label to Downwards, became home to my second release 'Automation Makers Art'. A release that went on to become something of a cult record - to the extent of being known as 'The Washing Machine' in Slovenia. A further EP and double pack were released on ZET before other projects took over and ZET, as it was, came to an end in 1998.
At around the same time a close friendship with Umek from Slovenia was sparked, since we were both working with ZET, and with his influence and several releases and collaborations on his label Expire I started on the way to what has become a very strong relationship with much of Central and Eastern Europe (and countless passport stamps). Umek and myself have, of course, since developed in quite different directions.
Support from and working with Karl (O'Connor), Pete (Sutton) and later Tony (Soares-Vierra) and Integrale Muzique continued and increased with the company handling many of my releases over a period of six or seven years when, finally, Integrale's doors closed in early 2003.
Reducer and Tomito Satori
Throughout this period, early in 1997, several pseudonyms sprang into existence to support a number of different projects - from the harsh industrial sounds of Tomito Satori on Exhibit and Helki Torsnum on Sheer to my increasingly experimental loop based output as Reducer on Instillation. In their own right, these alter egos have received much praise and continue to develop. The Reducer project has seen the most success and recognition - the material perhaps being the most timeless and far reaching. By way of example in late 2003 Jeff Mills began to express serious interest in Reducer releases from 1998.
Affiliations and Growth
Also around this time a chance meeting with Marco Lenzi at the Eukatech Record shop in London led to a continuing series of releases on his label Molecular Recordings including several EPs, collaborations, "secret" releases and locked groove compilations.
During 1996 and 1997 a number of well received live PAs around the UK in clubs such as The Orbit in Leeds and Sankeys Soap in Manchester led to meetings with people such as Colin Faver, Mark EG, Cold Dust (Mike Humphries and John Nuccle) and others. The meeting with Mike and John resulted in the release of 'The VZ Era' EP on their label Red Seal.
On returning to London, following completion of my degree in Manchester, I received continued support from both Colin Faver, spawning several appearances on London's Kiss 100, and Brenda Russell, who ultimately hooked me up with Tim Taylor and Missile Records.
Missile Records went on to play a major part in the growth of my profile and I have worked closely with Tim on many projects to date for Missile and Fear Of Music - both releases and behind-the-scenes editing and mastering. To this day my release of 'Spaghettification', a double 10", is seen as one of the strangest records to be put out on the Missile label.
Over the turn of the millennium and into the 21st century, output continued apace with acclaimed projects for many other labels such as Rodz-Konez, Cutting Pleasure, Potential, Ergonomix, Urban Substance, Morpheus, Native Diffusion, Blackout Audio, Speaker Attack, Electracom and Fylo including remixes for the Space DJz, Makaton, Robert Armani and others. Often, although of course not always, releases that have come about as the result of strong friendships, shared aims and similar ideas.
Asymmetric Records
I am now heavily committed to my own label, Asymmetric. Formed in January 1999 as a label specifically to output my material it is the home to my most personal music. High on the agenda for Asymmetric is to challenge and introduce ideas whilst maintaining a distinctive and coherent techno foundation. Releases to date have been met with both critical and dance floor acclaim.
The explosion of the first Asymmetric release 'Preliminary Statements' and unrelenting support from DJs, such as Toky and Dalo from Bratislava, and countless other people, organisations and websites, further developed my closeness to and profile in Central Europe - the Czech Republic, Slovakia and Hungary especially. In tandem, and in a fairly limited number of releases, the distinctive Asymmetric sound has reached far and wide and continues to inspire.
The Birth of asymmetric|mp3
Towards the end of 2002 Asymmetric reached its tenth release, 'The Power Of Ten', and entered an unfortunate, difficult and frustrating period due to distribution problems. Not wishing to stem the flow of music and ideas, the opportunity was taken to start an innovative project asymmetric|mp3. This is an MP3 label made available freely at www.asymmetric.co.uk with the aim of running alongside and supporting Asymmetric. Releases are made available as a collection of high quality MP3 tracks all of which expand upon the horizons that have made Asymmetric so well respected worldwide. The first release, made available in January 2004, was called "In Parallel" and brought significant interest and positive feedback from around the World. This led up to the welcome return of Asymmetric to vinyl, later in the same year, working with Madrid based Jaxx Records.
Electronic Music Horizons
The asymmetric|mp3 project has grown and diversified, reaching its seventh acclaimed release in early 2006. Clearly moving into directions that cover a far wider breadth of electronic and experiment music this natural progression has seen the birth of projects with Sheffield's Audiobulb, London based Rednetic and Stockholm based Electronic Desert amongst others.
Insert Token to Continue...
Early 2007 marked the first release for Token records and the beginning of a strong techno alliance. 'Identify Yourself' made a definitive statement to the techno world and both proudly launched the label and marked a long awaited return to vinyl. The 'Bite Back' EP followed in 2008 to fantastic feedback and helped further cement Token as a highly regarded label. Hand in hand with this the diversity of the asymmetric|mp3 project continues to accelerate and tangents into remix work such as for the Czech band Khoiba have been immensely well received.
Worldwide DJ Assault
Alongside this pioneering release schedule has grown an increasingly hectic worldwide DJ schedule - including Australia, Austria, Belgium, Brazil, Bulgaria, China, Croatia, Czech Republic, England, Finland, France, Iceland, Ireland, Italy, Germany, Hungary, Netherlands, Northern Ireland, Israel, Poland, Portugal, Scotland, Serbia, Singapore, Slovakia, Slovenia, South Africa, Spain, Sweden, USA, etc.
These perfomances almost always pushing three turntables and one or two CDs to their limits to provide a truly energetic, atmospheric, innovative and, dare I say, inspirational and challenging experience. High on the agenda at these performances is that classic tracks are as important and relevant as the most recent releases.
Well on the way to 100 releases, a number of major projects upcoming in the next few months and a packed DJing schedule. Things are looking bright on planet Asymmetric...