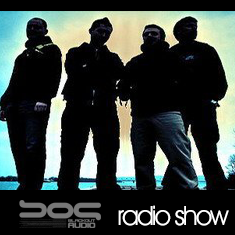 BOA Radio Show 025 | Concrete DJz
Concrete Djz are Filip Xavi, DJ Mita, Matsura and DJ Luka. Ever since they came together these guys are on a mission of pushing forward the techno sound in Serbia . The DJ's behind Concrete Djz became involved with electronic music around the year 2000. One thing led to another and in 2003, as residents of Club Akademija, the idea came to create a group now known as the Concrete Djz.
Since then they have been responsible for numerous organized parties in Serbia in the period of 2003 - 2007. In this period their sound could have been heard on events and locations like EXIT festival Serbia, Ovo je Moj Grad MTV festival Serbia, Dance Industry Studios London, The Orange Peel Wales, Nightgrooves Croatia, Proactive Montenegro, Kommunity London ...
Their style is TECHNO free of boundaries yet defined ,ranging from dark beats to pounding grooves as they combine the most diverse elements of the sound into a whole with an edge on power and intelligence.

Next to performing and producing they are also successfuly running radio show Beton and Armatura Records.

Recorded: 13th June 2007