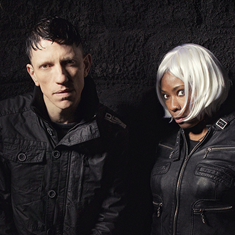 The Anxious are Mark Anxious and Chrissi Blackout, who have been producing under this name since 1998. Their sound is characteristically dark and uncompromising, with a musical message that many have imitated, but failed to deliver. They burst onto the techno scene with a series of punishing releases on some of the worlds top electronic labels of the time, as well as their own Blackout Audio imprint.
Classic's such as 'Beginning Of The End' and 'Visions Of A Motion' on Planet Rhythm and Compound, soon meant that these two soon caught the attention of many of the leading techno jocks such as Dave Clarke, Carl Cox, Richie Hawtin and of course Joey Beltram.
Their music defined the sound of techno music at the turn of the millenium, leading to countless demands worldwide for them to produce a live experience to match their breath-taking release schedule. In 2005 they performed a ground breaking live appearance at the leading global techno event, the legendary Circuito in Sao Paulo Brazil, the recording of which is still talked about today.
In 2006 and 2007 they released music on Chris Liebing's Audio label as well as joining forces with Arms and Audio Assault records to release a series of blistering EP's that again featuring high on the playlists of DJ's such as Dave Clarke, DJ Rush and dark techno favorite Bas Mooy.
2008 saw a slow down in their release schedule, as the sound of techno music moved into new territories that they did not wish to become a part of.
2013 -> Refusing to follow the trends of the day, they instigated a four-year studio lock-down, to reshape a sound that takes dark, electronic mind-music to a whole new generation. The results are out now, with an even stronger message. A more defined, darker sound. It's up to you to find it.