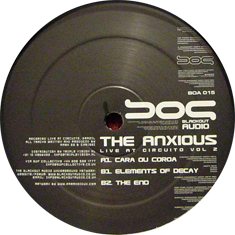 BOA015 | The Anxious 'Live At Circuito Vol 2'
Artist: The Anxious

Title: Live At Circuito Vol 2

Cat No: BOA016

Format: 12" Vinyl

Buy Link: HERE

A Cara Ou Coroa
B1 Elements Of Decay
B2 The End
'Live At Circuito Vol 2' is the second and last in a series of releases that have been taken from a recent Live PA by Mark EG and Chrissi under the name The Anxious (Planet Rhythm, Compound, Submissions etc). The 60 minute long PA was 6 months in the making and was performed for the legendary techno promoters Circuito in Sao Paulo, Brazil. The response was out of this world and is the reason why this two-part collection of six tracks has been released.
On this particular installment, it begins with 'Cara Ou Coroa', meaning 'Heads Or Tails'. It doesn't take long to realize that this was one of the best tracks of the entire set and is a track that will strip paint of your ceiling. Pay careful attention to the breakdowns for some serious floor action!
On the B-side, prepare yourself for yet more technological insanity. Elements Of Decay' is a raging beast of a track with an angry lead line and driving, dark undertones. 'The End' completes the series with an ass-wiggling bassline and plenty of Anxious style filter changes. A blistering, mind-bending EP for peak time play at the most daring of techno nights.