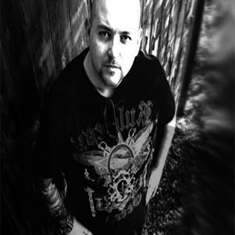 Andreas Kraemer started producing back in the early 90´s and formed the Frankfurt based Label, Thai Records together with PCP (Planet Core Productions) when he was 16. At the age of 18 he remixed the Bladerunner Theme from Vangelis. Andreas went on and produced an endless number of releases for many labels such as Primate (UK), Construct Rhythm, Form Recordings, Intence, Reload, Drizzly, Overdose, UPB, Blackout Audio, Fieber Records, Universal and many many more.
His two techno labels Construct Rhythm and Form Recordings represent techno at its best. Construct Rhythm had over 40 vinyl releases in the past, Andreas Kraemer (CR), Thomas Pogadl (CR), Andre Walter (Stigmata), Robert Natus, Toni Rios, Kay D Smith and Alex K Katz published unforgettable techno anthems on Construct Rhythm. Having an unbelievable long release list of more then 250 released records, Andreas is one of Germany´s leading techno and electronic music producers. With many different aliases and remixes he's built up his own music empire and he's also made secret projects which he uses to represent electronic music in the ODC and DDC Charts regulary. Many big name artists work together with Andreas and select him as producer. Andreas produces many genres of electronic music besides techno.
The mainstream project Schwarze Puppen (with the special Klaus Kinski vocals) reached the Top 3 of the German Dance Charts and the ODC Top40 Charts. The follow up of this big impact was with the legendery singer NINA HAGEN - and also smashed the charts.
Andreas Kraemer plays a big part in electronic music history and culture today. Most of his productions have reached cult status.
Beside producing music, Andreas plays all over the world as DJ.