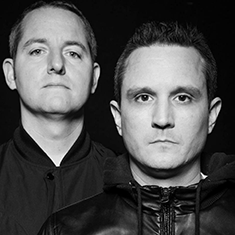 There are few DJ's and producers in the modern techno world who can truly claim to have pioneered a sound and call it their own. Such statements are often declared, but rarely justified. In the case of Ben Long and Jamie Bissmire , the names behind the revered Space DJz, this claim would be unarguable.
Ever since the pair's formation in the early 1900's their unerring ability to fuse raucous techno with their life long love of Hip Hop has set them aside from there peers. In the present day, an abundance of UK techno producer's have emerged and none would deny The Space Djz are true innovators.

In 1995 the duo released their debut EP Space DJz on the legendary and now defunked Infonet imprint, quickly followed up by an outing on the Belgium label Reload. These two projects put them on the techno map but the real turning point arrived in early 1996 on Infonet with the release of the 'Return To Earth EP', containing the techno anthems 'Side On' and 'Rock The House'. Both tracks would blow up to be huge and be re-released via Frankfurt based Ongaku. The combined output of both releases was over 10,000 copies and along side Dave Clarks 'Red 1' these were two of the biggest tunez of the year and are still much sought after and played to this day.

The DJz became prize catches for major players Nova Mute and Soma, contributing several more classic releases culminating in 1999's critically acclaimed album 'On Patrol'. The album expressed Ben and Jamie's roots perfectly, combining their now infamous hip-hop influences with their unique brand of analog techno and chaotic electronic soundscapes.

Later that year The Space DJz delivered a track that was to become one of their biggest hits to date. 'AK 47', a track that had originally been heard on a Nova Mute Compilaton was reworked and served to capture the period's riotus spirit of techno. Listening to that record, one would imagine, was like being attacked with a chainsaw buy an electronic chicken - simply brutal. It was released as a double pack on Ben Long's highly regarded Potential Recordingz and featured remixes by many of techno's biggest names including Umek, The Advent, Gaetano Parisio, Oliver Ho, Inigo Kennedy and Chris McCormack.

During 2001 Ben and Jamie were also able to concentrate on their solo projects - working with labels such as Consumer Recreation, CLR, Primate, PrimeEvil, Tortured, Advanced, Eukatech, Speilzeug and the running of their own labels Potential Recordingz, Ergonomix, ReRub, 50hz, Ground, Foundation and Target. Jamie also released a Bandulu album Redemption with Music Man.

2002 saw the welcome return of The Space Djz on Blly Nasty's Tortured imprint with 'The Faces of Pain' double pack, their first release together in almost two years and a double mix CD was released on Primal Rythms entitled 'The Last Djz on Earth'. They were back and they were better then ever.

Up until this day, The Space Djz have been renowned the world over for their breathtaking skills behind the decks. Whether working as a team or individually, Ben and Jamie consistently deliver astounding performances – DJing to them is an art and with over ten years on the world DJ circuit they have the knowledge and experience to rock any party right.