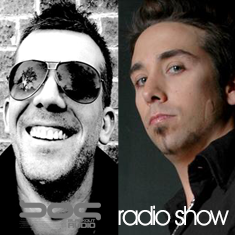 BOA Radio Show 021 | Cristian Varela and DAVE The Drummer
Cristian has a massive worklist with more than 150 productions and compositions for Sony/BMG, Blanco & Negro (Spain), Intec (UK), Elephanthaus (USA), Pornographic (together with Marco Bailey) and his own brand new labels Donkeyhead Recordings and Black Codes. DAVE The Drummer aka Henry Cullen own his own label Hydraulix Recordings and has made and been involved in producing more tracks over the last 15 years than quite possibly any other techno producer out there.
Cristian Varela:

Influenced by a special family of artists and his mature musician career to finish (piano- solfa) he composed the soundtracks for some national theatre shows, movies, fashion "pasarelas" and TV spots.
Remixer of talents like Eurrythmics "Sweet Dreams", Michael Zager´s Band "Let´s All Chant", Split Second "Flesh"…

His productions and interviews have appeared in the most important specializing magazines, tvs, radios and Internet (MTV, VIVA, Tele5, Antena 3, Telemadrid, Cuatro, TVE1, TVE2, DJ).

With this Cristian´s long artistic life, discography and of course, his spectacular sets with 3/4 decks, along with his constants tours around the world from Japan to U.S.A, Europe, UK…makes him one of the most prestigious names in the electronic international scene.

Dave The Drummer

Since his first studio sessions upstairs in a pub in Deptford with the Liberator DJs, the once professional drummer, D.A.V.E. has made literally hundreds of recordings, including some club classics such as:
• One Night in Hackney on S.U.F. records with Chris Liberator.
• Hydraulix 09 on his own Hydraulix label.
• Cradle cap, on his Apex imprint.
• Soul image, on Riot recordings with B.K.
• The Human Animal, on Chris Liebing's Fine Audio Recordings.
• Twisted with Wayne G and Stewart Who?, on It's Fabulous! Records.
He has recorded under many different aliases, most commonly as D.A.V.E. The Drummer but also as: Henry Cullen (Mutate To Survive)/Strobe/CO-AX/Secret Hero to name just a few.
HYDRAULIX RECORDS
Dave's infamous techno label Hydraulix has been running since 1998. For the past 12 years DAVE has been playing his tracks from the vast catalogue of music he has made and released on Hydraulix all over the world.
He has a reputation for being reliable and innovative on the turntables, and now CD players with an armload of unreleased material. He has held down residencies in Brazil and the UK and is a regular visitor to most of South America as well as Japan , Austrailia , Venezuela, Canada , Russia, and Europe.
Dave has now started a digital version of his Hydraulix label
( HYDRO909 ) which you can find on the webstore
www.london909.com


Recorded: 10th May 2006